Special exhibition 2021: "Eocene. At the beginning of our world"
3 November 2020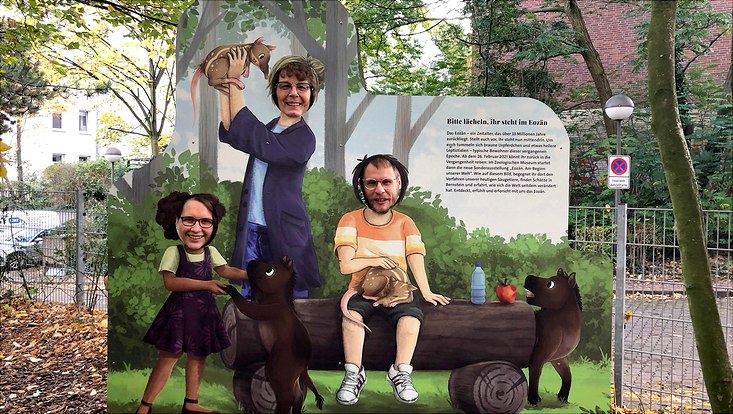 Photo: CeNak/UHH, Paran Pour
Smile, please! Until the opening of the special exhibition in a few months, visitors can get acquainted with animals from prehistoric times and have them photographed in the entrance area of the Zoological Museum. Here, CeNak employees have posed as models.
In every end lies a new beginning. In the special exhibition planned for 2021, "Eocene. At the Beginning of Our World" planned for 2021, we will enter a time in the history of the Earth when the animal and plant world had to evolve anew. With an illustration in front of the entrance to the Zoological Museum, visitors can already immerse themselves in this age. The exhibition itself can be seen from the end of February 21.
The Eocene tells of the new beginning - a period from 34 to 56 million years ago. During this time, mammals and birds inherited the dominance of dinosaurs, laying the foundation for today's diversity of animals.
Central Europe was covered by jungle and tropical climate prevailed where Hamburg is located today. With the special exhibition "Eocene. At the beginning of our world", visitors to the Zoological Museum travel back in time and trace the beginnings of our evolutionary history. On display are contemporary witnesses such as fossils, insects encased in amber, and skeletons of long-extinct animal species such as the large, flightless bird Gastornis. Together with scientific research results, they allow us to take a look at the history of the earth.